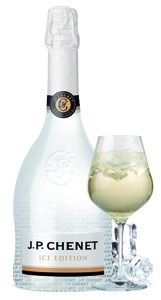 The wine: J.P. Chenet Demi-Sec ice edition
The producer: J.P. Chenet www.jpchenet.com
They say: Smooth, creamy and fresh, J.P Chenet Ice leaves a long aromatic taste in the mouth with a fine, supple yet rich texture. To be served very cold, the slightly increased sweetness highlights its delicate fruity aromas once it's in contact with the ice. With an accessible price tag and an eye catching all white bottle, this new wine will offer a chic new way of enjoying sparkling wines appealing to a younger, dynamic consumer who usually chooses RTD or fruit-flavoured ciders.
We say: Very subtle nose. Pear dominates when served well chilled. Not immediately obvious as a demi-sec sparkling wine. Awkward juxtaposition of alcohol and flavour. After ice is added, quince and citrus shows through. Refreshing as an aperitif, with plenty of ice, but not a serious drinking wine.
Try with: Soy and maple syrup marinated salmon
Price (RRP): £9.95
Available from: ASDA
Additional notes: Launched at Cannes Film Festival in May 2014. Intended to be served over ice.
Chinese tasting notes and food match
品酒笔记: 初步反应气味较淡。冰镇时梨子味道为主。微甜。感觉比一般的demi-sec甜度的气泡葡萄酒更酸。酒精与酒味不太搭挡。加了冰块后(建议加冰饮用)有跟多的榲桲与柑橘类果酸。用大量的冰块来冰镇后变成清爽的开胃酒,但不算特别高雅。
中餐搭配: 北京烤鸭