When we think of champagne, we inevitably think of canapés; indeed, this is the most frequent mode of delivery. At a stretch, perhaps, we think of demi-sec or sec with desserts. But outside of champagne enthusiasts, how many of us sit down to champagne matched to every course?
Well, as I discovered over a Duval-Leroy lunch at The Greenhouse, the French serve nothing but champagne at weddings, making it the ultimate celebratory drink. That's a rather apt discovery since Duval-Leroy is one champagne house that's very focused on their food. Take their Lady Rose, which was originally created for Pierre Hermé macaroons. But more on that later.
First, let's sit down to a selection of their champagnes matched by head chef Arnaud Bignon's specially created menu.
Duval-Leroy has 15 cuvées in its portfolio. We started with Fleur de Champagne 1er Cru NV as an aperitif, a champagne which celebrated its centenary last year and is Duval-Leroy's best sellers in the restaurant trade. It's not hard to see why it's so popular – a delicate floral nose with a solid structure, ready to stand up against any likely canapé pairings.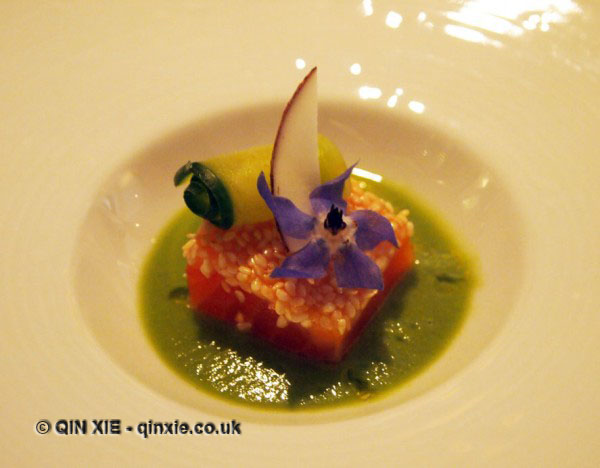 Next up was the Rosé Prestige 1er Cru NV. This salmon-pink champagne is said to boast a bouquet of cherries, figs and even a hint of ginger – a difficult match but the chef's wild salmon dish, with hints of curry and wasabi, worked beautifully.
The third champagne, La Femme de Champagne 2000 Grand Cru, was the favourite amongst the wine writers around the table. The powerful vintage, only produced in certain years and from selected Grand Cru plots, had great structure and finished to a soft mousse on the palate. Cornish crab highlighted with mint jelly, Granny Smith apple and curry made another challenging match but one that La Femme easily overcame with finesse.
The only blanc de blancs we had, the Clos des Bouveries 2005 cuvée oenoclimatique, was Duval-Leroy's special experiment. The champagne, produced solely from Chardonnay grapes harvested from a century-old Duval-Leroy owned vineyard near Vertus, is vintaged every year so the effect of the weather on each vintage is fully explored and exposed.
The dish matched was an equally experimental looking chicken with truffle, chestnut and squash. Champagne with meat is perhaps the most difficult match and in this case there was a little too much experimentation on the palate.
The final champagne was the champagne for food lovers, and in particular, desserts – the aforementioned Lady Rose NV. Duval-Leroy still celebrate this champagne with their annual Dessert of the Year competition. At 25g/l dosage, the champagne falls firmly into the super sweet sec category.
Originally produced as a half bottle, it has proved so popular in Asia, matching well with Asian cuisine, that a full sized bottle is now produced too. With berries on the nose and slight acidity on the palate, the Lady Rose NV married well with the raspberry, lychee and rose dessert.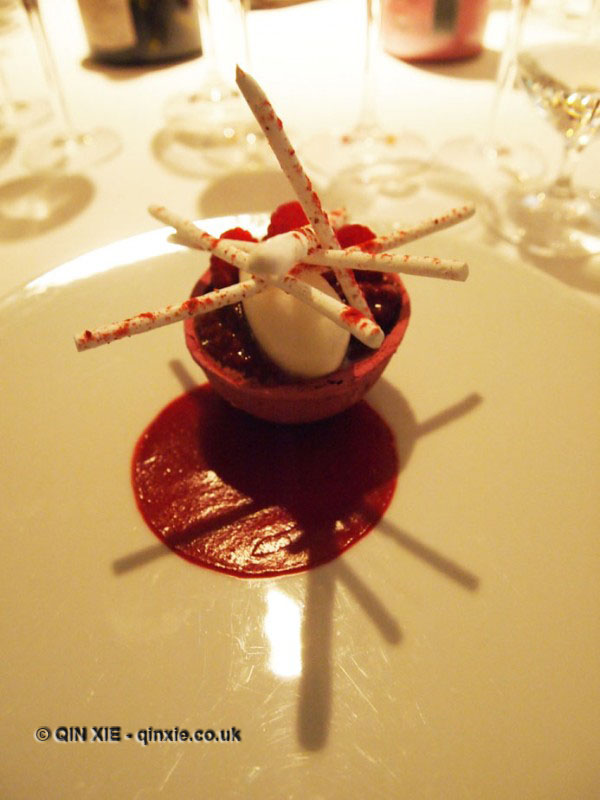 It seems that there's certainly room for champagne with every course, though matching is not always so simple. Duval-Leroys champagnes did well with the fish and of course dessert but further explorations are certainly needed for meats. And that's not something to complain about!
It was also interesting to learn about the champagne house's dedication to the sustainable development of their vineyards and winemaking. This includes continued commitment to reducing water usage, use of solar panels to reduce their carbon footprint and a move towards organic vinification with some of their cuvées.
Now that is something worth raising a glass of champagne to.
See the menu and additional photos here
(First seen on Bon Vivant)