Phil Howard at Nespresso boutique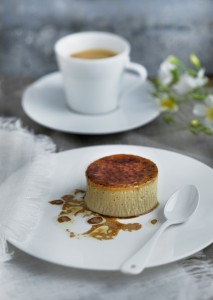 Ingredients:
For the brûlée:
500ml double cream
270ml milk
165g egg yolks (about 8)
95g caster sugar
3 Tonka beans
For the hazelnut oil and coffee dressing:
75ml serving of Nespresso Fortissio Lungo
75ml extra virgin hazelnut oil
50g caster sugar
Demerara sugar to finish
Method:
To make the brûlée:
Place the milk into a pan with the Tonka beans and bring to the boil. Take off the heat and leave to infuse overnight.
Remove the beans, add the cream, yolks and sugar and gently whisk until homogenous.
Pour into an oven proof dish or into individual moulds and bake, bain marie, at 110°C until the mix has just set.
Remove from the oven and set aside to cool.
To make the dressing:
Dissolve the sugar in the freshly made lungo coffee, add the oil and stir to combine.
To serve:
Sprinkle the surface of the baked cream mix with demerara sugar and caramelise with a blow torch or under a very hot grill.
Leave to cool for 5 minutes and serve with a small amount of the coffee and hazelnut oil dressing. Serve with a freshly made Nespresso Fortissio Lungo.
Find more recipes from Phil Howard in The Square: Savoury: 1 and The Square: Sweet: 2.