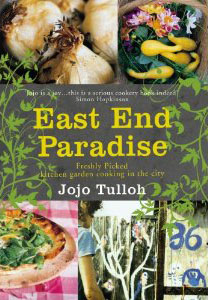 Originally published in 2009 as Freshly Picked, East End Paradise is a collection of recipes and anecdotes based on the fruits of Jojo Tulloh's allotment in Leyton, East London. As the food editor of The Week, Tulloh knows a thing or two about food. But reading through East End Paradise, it seems that it wasn't until she acquired an allotment in 2002 that she really began to learn about food and appreciate its seasonality.
When she first started her allotment, following the advice of novelist Frank Ronan, she knew little about growing things. Despite pouring over numerous gardening books, nothing was quite like the help and advice from her allotment neighbour – a formidable Turkish woman named Makbala. Over time she garnered allotment knowledge from all her green-fingered neighbours, and of course through sheer hard work and experimentation, all of which weaves a slice of something extra into the narrative of her book.
The recipes are split into the four main seasons: spring, summer, autumn and winter. From there on in, it gets a little more confusing. Each season comes with a note on the sort of things that you might plant and the sort of things you might harvest. But given the narrative nature of the book, it's not always immediately clear which is which. Once you navigate past this though, it's not too dissimilar to Stephanie Alexander's Kitchen Garden Companion – the recipes are arranged in ingredient led sections with an introduction preceding each set.
For Tulloh, the introductions are mostly comprised of little notes of inspiration. Take peas for example, the section begins "Sticking peas with Dorothy Wordsworth" and comprises of extracts from Wordsworth's journal and Tulloh's experiences with growing. What follows are recipes for peas: petits pois à la Français, pea and globe artichoke heart frittata and pea and mint risotto. Of course once in a while, there's a wild card loitering amongst the sections like the recipe which immediately follows the peas – it's for radishes.
While the majority of recipes in the book are vegetarian, there are meat-based recipes too like the one for beef and herb rice paper rolls – no doubt inspired by the scores of Vietnamese restaurants in Hackney, where Tulloh lives. There are also side orders of recipes for baking and preserving as well as general hints and tips.
Despite a fine selection of recipes, the book feels much more like a memoir than a recipe book. The recipes are all based on things that she has grown on her allotment and in that respect they're not the central aspect of the book. Indeed the recipes only serves to complete the narrative of her experiences – that of an east end paradise.