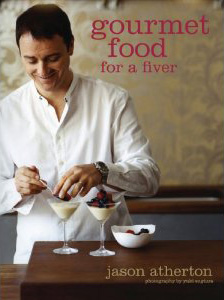 When you're looking through a book titled Gourmet Food for a Fiver, you find yourself going through a spectrum of thoughts.
To start, there is scepticism. Given the current economic climate, food on a budget isn't exactly a novel concept. The whole phrase 'current economic climate' is probably exhausted by now. Besides, Ready Steady Cook has been running £5 ingredient bags for years. But gourmet food on a budget?
As this is Jason Atherton's book, it is believable and unbelievable at the same time. Jason Atherton has worked at a string of notable restaurants including La Tante Claire, Chez Nico and Restaurant Marco Pierre White. Until recently, he was executive chef at London's Maze, a Michelin starred member of Gordon Ramsay Holdings. His first restaurant, Pollen Street Social, is due to open shortly in January 2011 and is hotly anticipated by the foodie crowd. Knowing all this about the author, there are no doubts over the gourmet aspect of the food. Instead, you're left with intrigue. How does Michelin star quality marry up with budget?
The book is split into two main sections, savoury and sweet. The savoury section contains both starters and mains, some of which are interchangeable. The sweet section is of course only desserts. All the recipes have the ingredients, the method and a little note on the recipe on one page. On the page opposite is the beautifully photographed dish with the plating instructions. Most of the recipes are scaled for four people with the odd pie and tart being divisible by more. Atherton promises that any two course meal from this book can be made for under £5 per person, whether it be a starter and a main or a main and dessert.
I'm a main and dessert sort of person so I flip through to find something I'd want to eat. After a quick browse in my local Sainsbury's and then a few taps on the calculator, I've found myself a budget meal for four. For the main I chose lamb steaks with pomegranate, avocado and Arabic bread (£12.35) and for dessert it was banana cake with lemongrass and ginger custard (£4.61). The ingredients I picked were mid-range, nothing basic and nothing overtly extravagant. For four people, this comes to just £4.24 per person. It definitely falls within the budget. That said, certain ingredients were discounted because they were considered "essential to the home larder and are mostly used in small quantities". Well some, like white wine vinegar for example, were part of Atherton's store cupboard but not my own.
Culinary skills aside, the food was in fairly small portions so it's just as well that there are two courses. But the instructions were easy enough and there were no unusual techniques involved.
Looking through the rest of the book, it's impossible not to notice the number of fish recipes. Atherton is clearly a fan of seafood and dessert. What is particularly nice, though, is that most of the ingredients were accessible and things that I might buy anyway. Overall, this collection of recipes presented an interesting mix of ingredients, creating some unusual pairings. It's definitely something to reference for inspiration.