23 St James's St, London SW1A 1HA sakenohana.com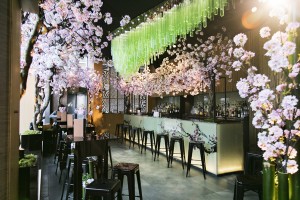 The last few days has perhaps been one of the busiest times of the year for gastronomy in London – the World's 50 Best Restaurants (read my commentary here) was once again being revealed and with that came all the acclaimed chefs, well-known restaurateurs and interested journalists.
My friend, Melinda Joe, was one of those interested journalists.
Based in Japan, she writes on sake for the Japan Times and food and drink for Wall Street Journal Asia. We had actually met at the awards last year, having connected over our work for CNN, and this year she stayed with me while in London.
I suggested we head to Sake No Hana where Sakura season was being celebrated. Healthy Japanese bento boxes, cocktails and a snifter of sake seemed like the right way to restore a travelling Japanese resident. And perhaps me too after weeks of early mornings and late nights.
Rather sneakily, we had the bar menu upstairs where food prices were usually a lot higher but the seats a lot more comfy.
The bento box, a beautiful two layer creation with a side serving of miso soup, comes in at £28 each. It feels more lunch than dinner but no less filling. The first layer was a seven spice chicken kuwayaki with a green bean salad while the second was filled with a mix of sushi and sashimi.
For sweets, there was a Sakura palet d'or (chocolate cake with cherry) and cherry/chocolate macarons.
Talk turned inevitably to Japanese food and culture.
The miso soup, I am told, is usually served after the bento box while the kuwayaki a little less sweet and the sushi more bitesize. That said, with the Nechi Otokoyama Daiginjo, a delicately sweet (think off-dry in wine terms) sake, the flavours worked well. And the Sakura season was definitely over.
In reality, I think the experience in the context of Japanese food in London is pretty fantastic. The presentation, in particular, was spot on. Much of that was down to the direction of chef Hideki Hiwatashi.
We didn't meet the chef but did have the occasion to talk to the commis sommelier who selected the sake for our dinner.
The other reason that MJ was in town was to judge sake at the International Wine Challenge – she knows quite a bit about the stuff.
This is the thing that really impressed me – the commis sommelier (I didn't note down his name but he should be applauded), a young man from Lithuania, was knowledgeable enough about sake to converse freely with MJ on the topic. And for anything he didn't know, he was equally enthusiastic about finding out. You just know that if you come back for those great sake cocktails in a year, he'll know so much that you'll be learning from him.
It's not often that you meet people who are nerdishly knowledgeable and enthusiastic about their profession and when you do, or at least when I do, it always instantly re-energises me in what I do. In this week where we've been talking endlessly about haute gastronomy, it's easy to forget that these are the kinds of people who make those great restaurants really great.
---
In Pursuit of Food was a guest of Sake No Hana. If you want to know what this means, check out our Editorial Policy.