Phil Howard at Nespresso boutique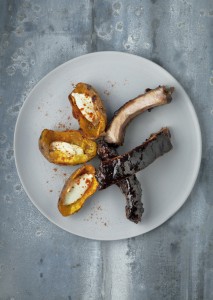 Ingredients: 10 racks of baby back spare ribs For the marinade: 200g onion ketchup (see below) 140g Dijon mustard 280g runny honey 200ml light soy sauce 5 espresso servings of Nespresso Ristretto 2 chillies, finely sliced 5 cloves garlic, finely grated 80g ginger, finely grated 400ml grapefruit juice 4 grapefruit, zest only For the onion ketchup: 5 Spanish onions, peeled and very finely sliced 150ml light soy 200ml runny honey 100ml Cabernet Sauvignon vinegar 50ml vegetable oil To serve: Chicory salad Baked potato Sour cream Chives Method: To make the onion ketchup:
To make the onion ketchup, place the oil into a large pan and set it over a high heat. Add the onions, a generous pinch of salt and cook, stirring frequently until the onions are caramelised, soft and golden.
Add the soy, vinegar and honey and cook until completely evaporated – leaving a rich dark brown sticky sauce in the pan.
Transfer this to a blender and blend to a smooth rich puree.
Transfer to a bowl, cover with cling film and set aside.
To make the ribs:
Mix the onion ketchup with all of the remaining ingredients except the ribs and whisk to thoroughly combine.
Place the ribs onto a large tray, or two, and brush generously with the marinade. Turn them over and coat the second side.
Place all of the ribs into a large bag and leave to marinate overnight. Remove from the fridge, wrap each rack individually in foil and bake them in an oven pre-heated to 140ºC for 90 minutes.
Remove from the oven and set aside to cool. This can be done well in advance.
To serve: Unwrap the ribs, brush them all on both sides with marinade and return to the oven – pre-heated to 180ºC. Turn after 5 minutes. After a further 5 minutes, remove from the oven, brush with more marinade and continue this process until the ribs are hot, caramelised and coated in a rich sticky glaze. Serve with baked potato and sour cream and chives or a chicory salad.
Find more recipes from Phil Howard in The Square: Savoury: 1 and The Square: Sweet: 2.