Discover the Origin with Matt Tebbutt
Serve with a 10 year old Tawny Port
Serves 6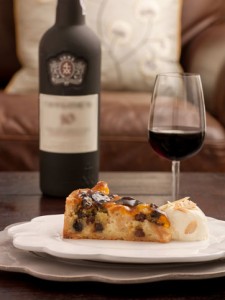 Ingredients:
1 x 12" tart ring lined with un-cooked sweet pastry
For the frangipane:
250g butter
250g sugar
250g ground almonds
4 x whole eggs
For the purée:
1 x vanilla pod
2 x Bramley apples, peeled, cored and diced
Sugar
Big handful of raisins
6 x Cox's apples, peeled, cored and halved lengthways
Method:
To make the frangipane – beat or cream the butter and sugar until
the sugar has dissolved and the butter is pale. Turn the mixer's speed
down and add the ground almonds. Beat until just incorporated then add
the eggs one at a time so the mix doesn't split. Chill until ready to
use.
To make the purée – Cook the vanilla pod with the Bramley apples and
a little water over a low heat until puréed. Add a little sugar to
taste.
To assemble the tart – Spoon the apple purée over the base of the
uncooked tart shell, scatter over a handful of raisins. Fill the tart and bake at 200ºC until golden.