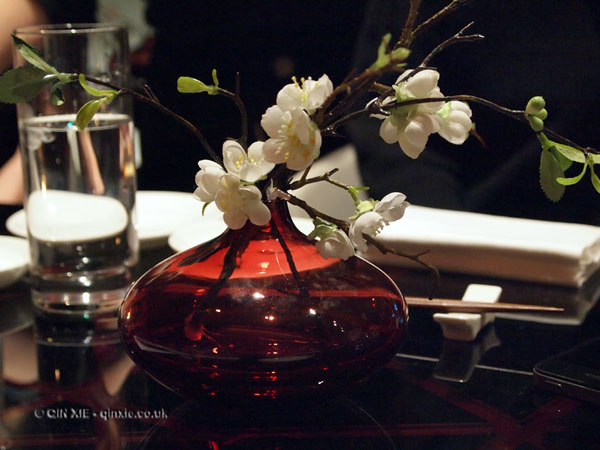 When it comes to Japanese food, I automatically think of my friend Luiz Hara (The London Foodie). Endlessly enthusiastic and keenly knowledgeable, he's currently studying at Le Cordon Bleu and runs a series of Japanese Supper Clubs from his Islington home. The lesser known facts in my small pockets of insight into Japanese food have all come from Luiz, who is as generous with his knowledge as he is in spirit. And of course food.
Our recent Japanese escapade involved previewing the new sushi masterclass at Ichi, a sushi and sashimi bar within Park Plaza Westminster Bridge Hotel, and learning about different sakes from Tom Harrow (WineChap) who had helped to select the sakes on the menu.
Ichi is launching sushi making masterclasses, starting this Saturday (3rd March), which takes place the first Saturday of every month from 12 noon to 2pm. The idea is that guests would watch head chef Sadayuki Okamoto, who has worked at the likes of The Savoy and The Ivy Club, demonstrate a selection of signature dishes from the menu before attempting to do so themselves. Then of course, there's a lunch with sake.
I've made sushi a few times before so was curious to see if I could pick up some new tricks and I wasn't disappointed. We were taught to make different kinds of maki rolls (Hosomaki, Temaki, Uramaki) and nigiri, most of which I had made before, but it seems that having experience doesn't help here. Chef Okamoto moved at such speed that at times it was difficult to see what he was doing – one minute there were ingredients, the next perfectly formed sushi. Luckily there were chefs on hand when it came to our turn to make the sushi.
And having a Japanophile in the room certainly raised the stakes a little. We were able to learn much more about where the chef has worked, where the ingredients of the restaurant were sourced from and also current food trends in Japan. Taking a blowtorch to my sushi was definitely unexpected. It's that age old adage – the more questions you asked, the more you got out of it.
Of course the best thing about making food is eating it and there is a small feast to indulge in afterwards. As well as the sushi we've made, we also had a selection of hot and cold dishes as well as a fine flight of sakes. Tom Harrow taught through the different sake styles and we tried a few both chilled and warmed, a great insight into how the complexity of the sake changes with temperature.
Curiously, what seemed like a rather eventful evening actually only lasted a couple of hours. I suppose that's Japanese efficiency for you. But it did give Luiz and I the opportunity to catch up on our respective culinary journeys over a glass of wine, or three.