This is a post in the Spotlight on: Oporto and the Douro Valley series
Symington Family Estates, which produces Graham's (as well as Cockburn's, Dow's and Warre's), have been port producers since 1882. Still family owned, they are the single largest vineyard owner in the Douro Valley, with over 1,000 hectares under vine. Not all of those grapes are for port of course as they also produce a number of dry wines under the Douro appellation.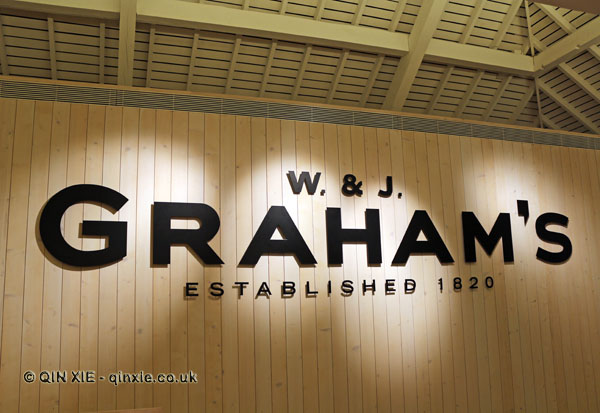 Graham's itself was actually established in 1820 by William and John Graham. Having already established a reputation for quality, it was acquired by the Symington family in 1970.
The current Graham's Lodge in Vila Nova de Gaia, inaugurated in 1890, had been refreshed fairly recently with a spacious museum-style visitor centre. In fact, the new wood smell was still in the air when we visited. And with freshly painted blanched walls and strong black lettering, the Graham's brand image is clear. A second visitor's centre is said to be opening in Pinhão later this year and will be the brand's first inside the Douro Valley. But the old lodge is still, and will probably always be, where all of the Graham's tawny ports are kept in barrels for ageing.
At the Lodge, there's also a great restaurant called Vinum but it was at one of the bars that we had a tasting of some of the wines and ports from the Symington portfolio.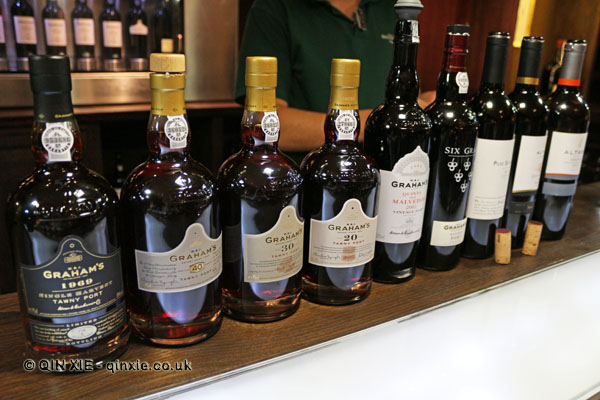 We started with the Altano Douro Branco 2012, a dry, white Douro Valley wine with a peppery nose which opens up to crisp apple, grapefruit and citrus notes.
Next came two dry red Douro wines. The Altano Douro Tinto Reserva 2010 still had a young, purplish tinge with notes of violets and herbaceous blackcurrant. An elegant but reserved wine. The Post Scriptum de Chryseia 2010, made with the Prats family, had an almost minty freshness with fine tannins and plenty of cherries coming through.
Moving on to the ports, we started with the Graham's Six Grapes Reserve Port which was a blend of young vintages, bottled and ready to drink. Supposedly an every day port for the vintage drinker, it was very approachable and fruity with good acidity.
The Quinta dos Malvedos 2001, a vintage port, had complex notes of prunes, figs, eucalyptus and chocolate, and perhaps even a hint of cigar and mushroom.
The collection of tawny ports, chilled to 12°C, was the real Graham's part of the tasting.
Going up in age, we started with the Graham's 20 year old tawny, a rich and delicious fortified wine with complexity of dried figs, dried apricots, nutty caramel and prunes. The Graham's 30 year old tawny, a more "sessionable" port if you will, had less of the nutty character and more concentration of fruit, complete with a luscious caramel finish. The Graham's 40 year old tawny showed considerably more viscosity and displayed intense dried fruits alongside the acidity, slight hint of cigar and a sort of leafy bitterness.
Finishing the tasting was a fantastic Graham's 1969 Single Harvest tawny (also known as a Colheita), which had more intense oxidative notes showing through alongside macadamia and almond from the nut angle and fig and prune from the fruit. But there was still plenty of acidity to challenge that sweetness.