Swallow Street, London W1B 4EZ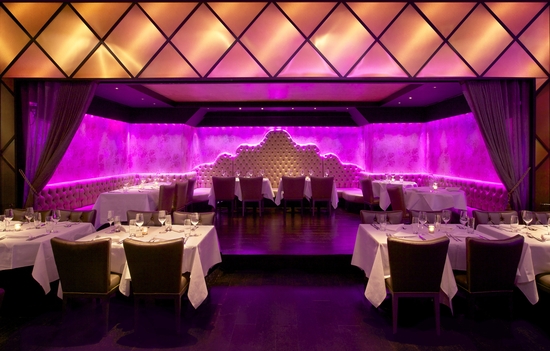 The Cuckoo Club has been recently redesigned by the 60s fashion designer and BIBA founder Barbara Hulanicki. But what goes on in its purple boudoir?
Décor and Ambience
The purple theme of The Cuckoo Club spells out debauchery and decadence everywhere but that's precisely how they wanted it designed – with rock n' roll in mind.
In the restaurant-come-club upstairs, the mirrored bar back with its towering shelf of liquors imparts a sense of something naughty. While the mixologist expertly concocts your cocktail, you can enjoy dinner on its plush banquettes or, with a reservation, in its VIP area. After the dining hour, that same room is transformed into a club with neon, strobes and cracking DJs.
Stairs, lit with a giant glittering disco ball, will lead you down to the basement club where you can also enjoy cocktails on their booths while you wait for that transformation. Or equally stay because it's ready with music, drinks, a dance floor and comfy seating.
Atmosphere and Clientèle
The first thing you'll be told when asking about The Cuckoo Club is that it never gets busy before 11pm.
Well, the club part that is. Members and non-members alike can book tables in The Cuckoo Club's restaurant and it does get quite busy there. The perk for non-members is that they'll also gain access to the club after dinner.
Because it's a members' club, The Cuckoo Club's guests are rather well dressed, though that is not to say that they are in any way snobby. Indeed after a drink or two, everyone's more than happy to mingle on the dance floor while the staff takes care of all your refreshment needs. It's probably one of the few places in London where well-heeled students and successful young professionals blend in equal measures.
Food and Drink
The food at The Cuckoo Club doesn't conform to cuisine. Instead you will find quite a selection of luxurious fish and meat dishes such as grilled langoustine and wagyu beef burgers.
Economical/drinkonomical is not a word considered here. With starters upwards of £10 and mains upwards of £15, you may have to curb your enthusiasm over their small selection of £8 desserts. Still, you will be rewarded well if you order the Valrhona ganache with sea salt crumble.
Drinks wise, cocktails are the thing to go for. Blends of champagne and absinthe will definitely get the party started but you can equally go for a tame G&T. Either way, the bar men know their way around an ice cube.
Music
Given its aspirations, The Cuckoo Club probably inclines more towards the rock n' roll side but really you're just as likely to hear dance and RnB classics. With different nights running throughout the week and on each of their dance floors, there's certainly room for choice.
In Summary
The Cuckoo Club is not a night out for the faint-hearted or small budgeted but prepare for the large bill and you are guaranteed fun in copious supply.
(First seen on Design My Night)