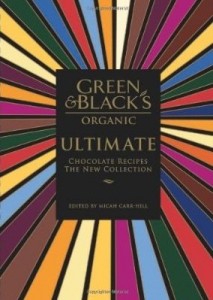 Of all the people in the world to have authority on chocolate, a chocolate maker must surely be somewhere on top of the list?
So that's exactly what I was expecting when I picked up the Green & Black's Ultimate Chocolate Recipes. Given Green & Black's were the first to introduce a 70% dark chocolate to the UK market as well as being fair trade and organic, I had high hopes. And I must admit, I was a little disappointed to find a rather tame collection of recipes, most of which were borrowed. I guess I was just expecting something to the tune of Willie's Chocolate Bible, which was a beast of a book.
That said, there were plenty of recipes to choose from – a well-rounded 100 in fact. As the second book from Green & Black's, this one has focused all of its efforts on baked products. The recipes are a mixture of contributions from celebrities, bakeries, chocolatiers and of course the products of the Green & Black's kitchen.
The recipes themselves are not what I would call avant-garde – you have all the usual sorts of things from cupcakes and brownies to tarts and soufflés. But they would, nevertheless, tempt a chocolate lover. Why else would you pursue a cookbook devoted entirely to chocolate, with six different recipes for hot chocolate?
My real issue with the book is the format. I like to visualise what I'm cooking before I start so having images to accompany each recipe is definitely a plus for me. Unfortunately this book only contains photographs of some of the recipes, and of those, some are just abstract images intended to demonstrate the ingredients rather than the finished product. And the photographs themselves seem to be carelessly placed – some are even located next to other recipes on the pages preceding the intended recipe, causing great confusion. Occasionally I am led to wonder whether the layout for the actual recipes are also a bit laissez-faire.
Overall, I wasn't moved by this book at all. There were a lot of recipes and some rather lovely photographs but it certainly didn't meet the expectations I had for Green & Black's. Perhaps more would be gained through buying Green & Black's chocolates.