40 Liverpool Street, City of London EC2M 7QN www.andazdining.com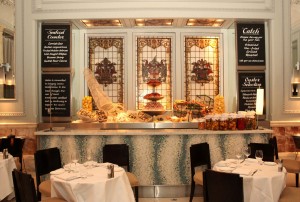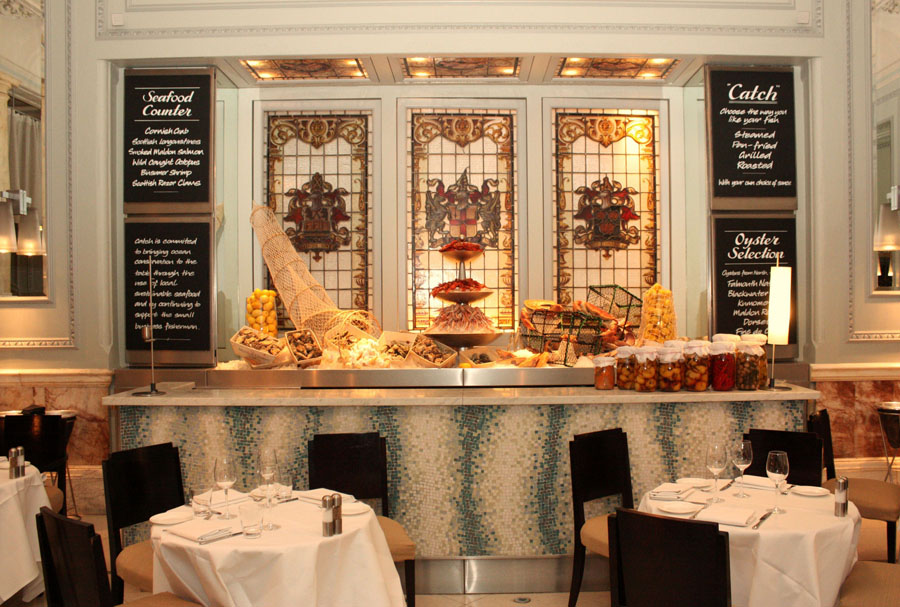 17th October marked the final night of the 2011 London Restaurant Festival, celebrated with an awards ceremony at Old Spitalfields Market.
Having dined out almost religiously for two solid weeks, it seemed wildly appropriate for our feasting to end with seeing Hedone's Mikael Jonsson picking up an award for bravery as the first gong of the evening. Wildly, mostly because Jonsson and his partner had been attacked at the restaurant just a few days earlier but still returned for service the following day with fierce determination.
But on this night, only a short stop could be afforded before it was time to put down the Colchester rocks and chilled Laurent Perrier and head across the road to Andaz Hotel. Because while the feasting of London Restaurant Festival was almost done, mine of that evening was just beginning – an odyssey of fruits de mer awaited my friend and I at Catch, the seafood and fish restaurant of Andaz Hotel.
After attending the Aldeburgh Food and Drink Festival Conference last month, I was particularly taken by Catch's proudly sustainable approach to seafood. Certainly, it would be even better if their environmental considerations were matched by well prepared dishes.
As we were seated, water and champagne were offered alongside an amuse bouche of pea velouté with cod. Declining the champagne in favour of a fragrant Gavi, we happily indulged our appetites with the intense smoothness of the velouté.
Despite hearing rumours that the Andaz team were out in force at the LRF Awards, it was reassuring to be informed that the head chef, Martin Scholz, was actually holding fort in the kitchen. It was also probably reassuring for my gilded friend to find that while it's not the done thing for bankers to be out on a Monday night, the lighting was dim enough and the environs private enough to ensure some anonymity. Indeed, for this EC2 restaurant, diners on a Monday appear to be mostly guests at the hotel rather than City professionals.
I was rather tempted by the memory of delicately sweet Kumamotos, which rather unusually comes in fours or eights rather than a dozen or half; but having just slipped oysters moments earlier, I opted instead to open with a beef tartare adorned by Sevruga caviar. Seared Scottish scallops, richly furnished with chorizo and truffle, served the banker well as the other starter.
The generously portioned mains, while not as opulent as the starters, were equally rich. Cornish monkfish cheeks, Shetland mussels, Brittany clams sitting above a caramelised fennel risotto would offer a sumptuous feed for the heartiest appetites but after the starters, it proved to be more of a challenge for me. The banker, meanwhile, made his way happily through the Anglesey sea bass and pork belly whilst telling me how he liked the little hooks on the menus.
The desserts offered further nuggets of luxury with lavender marshmallows embellishing champagne peaches in one and mint mojito foam accompanying a lemon tart in the other. But then again, would you expect anything less at a five-star hotel?
As we supped on the last of the Gavi with the post-dessert almond madeleines, it suddenly occurred to us that perhaps three courses was a little too sumptuous on this occasion. For a lover of oceanic offerings, this would have been seafood heaven. For the occasional dabblers, the meats interspersed with the fish allowed for some brief break from pure seafood gluttony. For us, the fantastic service and fabulous food needed stomachs that weren't already lined with champagne and huîtres.
(First seen on Foodepedia)