On a night in the last week of March this year, I had a bizarre dream. No grand political visions but rather, a blissful nightmare of sorts about eating at a fine dining restaurant with my mother and vanquishing demons in between courses.
Make of it what you will.
In the morning, I posted a solitary photo of one of the dishes from my dream – one that I had enjoyed in real life also – to Instagram. It's recognisable enough if you know the chef but it was inconspicuous in all other respects. And like all dreams, this one soon fluttered out of my mind.
I received an invitation in the post a few weeks later in a surreal dream-come-true scenario to discover the Fronteras menu at Restaurante Quique Dacosta in Denia – the very same restaurant that I had been dreaming about. And by July, I was back in Valencia and ready to take up on the surprise offer.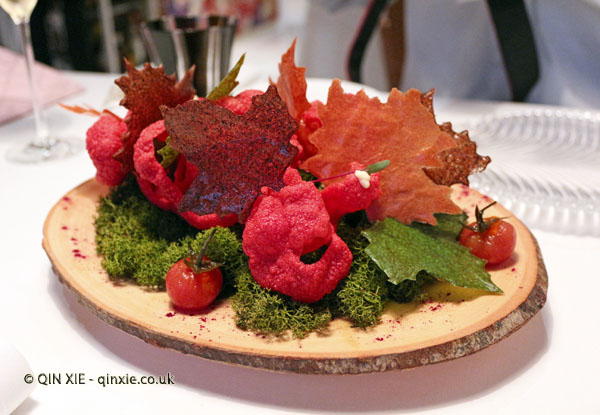 There was a prelude to my visit – a dinner at El Poblet, Quique Dacosta's one Michelin-starred restaurant in the heart of Valencia.
Situated above one of his other restaurants in the city, Vuelve Carolina, El Poblet was in a flamboyant bubble of pink embossed wallpaper. There were just a handful of tables where dishes from Restaurante Quique Dacosta's past menus were served alongside head chef Luis Valls Rozalén's creations.
For eighty odd euros, you get a tasting of around 12 courses – a steal compared to any offering you might find in London.
But it's hard to judge El Poblet on its own merits given that so many of the dishes were in essence recycled but if you don't get an opportunity to travel out to Denia for the three-star experience, El Poblet comes pretty close. Certainly, it is deserving of at least two Michelin stars.
It's impossible to miss Dacosta's signature dish, the petals of rose – the very one that I had dreamt about. On my visit, there were also revisited recipes like the red king prawn from Denia and Cuba Libre de Foie Gras. Crowd-pleasers if you will.
Perhaps one of the most visually appealing dishes was the head chef's creation – The Haze.
It's not a complicated dish – a small platter prettied up with peas, mushrooms, peashoot, lardon and crumbs. But it's made theatrical with the addition of a bubbling mist from the dry ice.
In an instant, I was transported back a moment in the Basque Country when winter was approaching. Biting frost was as much on the grass as it was in the crisp air and the sun's rays struggled to penetrate through the atmosphere. As the car I was in emerged from a tumble of fog, a flock of birds flew past overhead, breaking with the sun. A simple but glorious moment.
I very much enjoyed El Poblet. It was easy to get acquainted with but offered a few twists and turns too.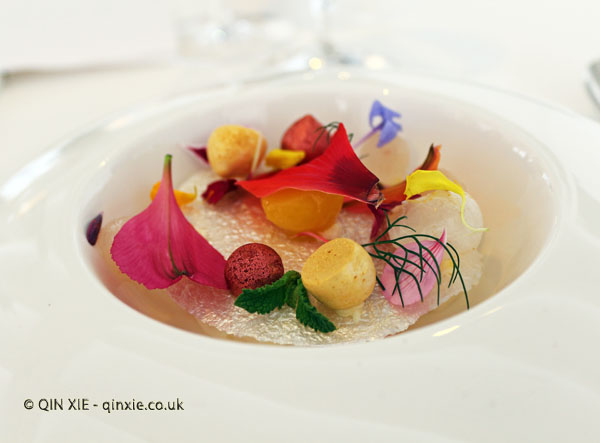 While El Poblet was a cocoon of red hues, Restaurante Quique Dacosta was a vision in white.
The amuse bouche were taken outside the main restaurant with a choice between an air-conditioned room or the white garden.
It's impossible to imagine devotees to summer picking anything but the exterior where white wicker furniture sat under the shelter of floaty white canopies. With each passing breeze, the fronds of the canopy waved and danced without a care in the world. It's chic and joyful at the same time.
Delicate little dishes came out in no time at all and brought with them an assault of citrus and smoke flavours that danced with the cava that was served. I would have happily stayed in this state long into the night.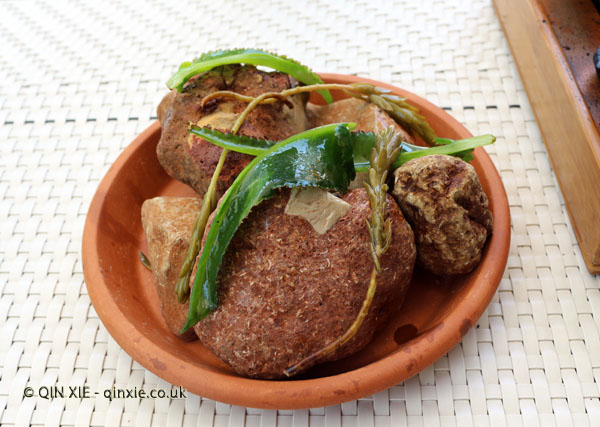 Inside the restaurant, more tiny dishes followed in quick succession.
Some of these focused on ingredients in minute detail, like the spoonful of fish roe and paper-thin slices of octopus tentacles. Others, like the tomato skin creation, broke the mould of what an ingredient 'should' look like. Others still, crossed the line of how many flavours or colours should be on a single plate.
Dish after dish arrived to assault my palate with hardly any time to savour the experience – it was overwhelming to say the least. But even more confusing for the mind, there didn't seem to be a thread connecting the dishes, except perhaps this single idea of Fronteras, or borders.
By the end, I felt dishevelled and ravaged and was glad to be out in the sun to enjoy the Petit Fours. It was a return to normality after the delivery of a focused and intense symphony.
I've held this piece for the best part of a year while ruminating over what I thought of my experience at Restaurante Quique Dacosta.
The impeccable style, from the well-chosen ties of the wait staff to the precise choice of the décor were all so Quique Dacosta. The food, bold, challenging and thrust upon its diner, reflects that. Honestly, I still don't know if I liked it.
But one thing is for sure – it's an experience you won't forget.
Inspirations
Much later, I was researching an article in earnest when I stumbled upon something that I thought was very interesting.
During my visit to Restaurante Quique Dacosta, I was told about how the theme of the restaurant changes every year and has done for the past decade or so. And with the closing of this year, I suppose Fronteras will come to an end and give way to something else.
New for this year was also a chef's kitchen, one created in partnership with Porcelanosa, where Dacosta could invite selected guests to dine.
Like other development kitchens, this one boasted a workspace filled with hidden equipment. But it's also a space where Dacosta has started to experiment with lights and sounds akin to what's happening at Paul Pairet's Ultraviolet. I can only pretend to imagine what might come out of these experiments for the menu for next year.
But the thing that I later discovered, which impressed upon me a new appreciation, was the fact that Dacosta started working at Restaurante Quique Dacosta in his mid-teens. Of course, it wasn't his restaurant then and it was known as El Poblet. Eventually, Dacosta took over the restaurant and made it his, gaining Michelin stars and a whole host of other accolades in the process. But he has only ever worked in one restaurant, a feat that's matched by few.
---
In Pursuit of Food travelled to Valencia with flight support from the Spanish Tourism Board and was a guest at El Poblet and Restaurante Quique Dacosta. For more information on what this means, read our Editorial Policy.