This is a post in the Spotlight on: Oporto and the Douro Valley series
Quinta de la Rosa, an impressive and imposing estate on the edge of the Douro river, was purchased as a Christening gift for Claire Bergqvist 1906. Actually, it would be more correct to say that, while the winery is sizeable (to include the family home, visitor centre and B&B accommodation), the estate itself has only 55 hectares under vine.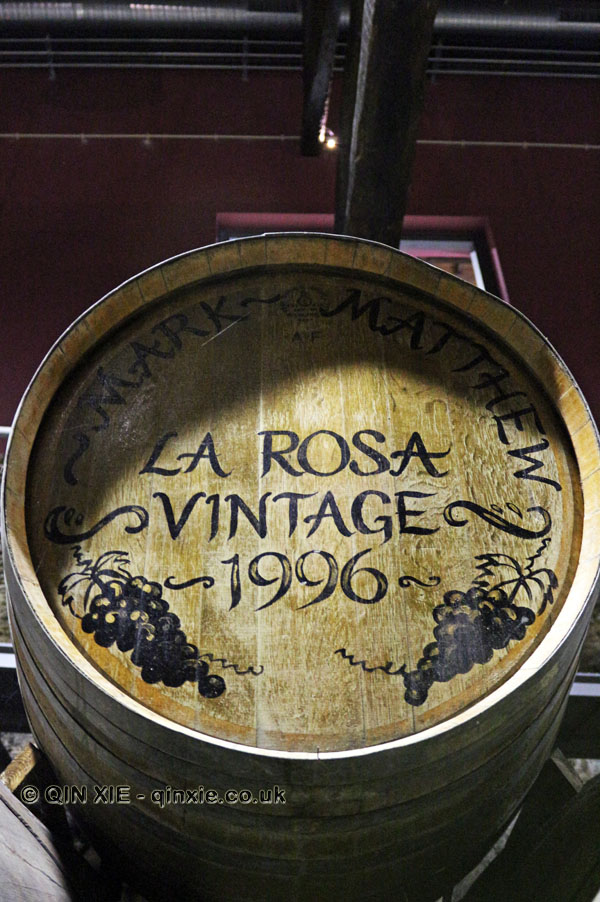 In the early days, all of the grapes produced on the estate were sold to large port producers such as Sandeman. Today, under the management of Claire's grand daughter Sophie Bergqvist, the estate produces around 80% wine and 20% port from their grapes. And aside from the tourism aspects (they run winery tours as well as hosting visitors), they also produce olive oil.
The family owned estate is very much traditional in its wine production. Foot treading in the concrete lagares is still used for its ports, followed by ageing in French oak barrels. And there are some really excellent wines at the end of it.
After the winery visit, we had a taste of some of their core products at the small visitor centre.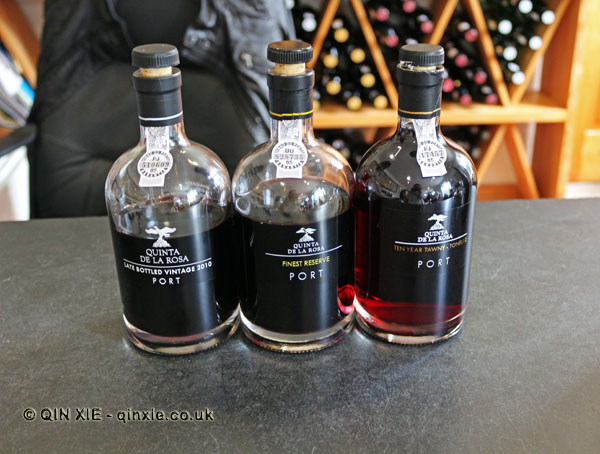 We started with the Quinta de la Rosa Douro Tinto 2010. It was an intense red wine with a smoky, pungent nose, spicy palate and plenty of red fruit. Alongside grippy tannins, there was also blackberry, chocolate and a certain plumminess. The second wine, a joint venture between Quinta de la Rosa and its winemaker, Jorge Moreira, was the Passagem Reserva 2010, made at Quinta das Bandeiras. This, a more tart wine, was reminiscent of Cabernet Sauvignon and would definitely be interesting with some age. Right now, however, it's holding on to a woody herbaceousness.
The ports in this basic tasting started with a 10 year old tawny. Alongside that oxidative character, there were lots of raisins and a little caramel and nut, making a smooth and elegant port with nice acidity and balance. Next came the Finest Reserve, a rich, ruby coloured port with lots of sweetness, fruit and acidity as well as a hint of liquorice. Finally, we tried the Late Bottled Vintage (LBV) 2010 which was only bottled two months prior to tasting. Beginning with a lightly floral nose, it showed delicate and complex nuances amongst the fine tannins. But, while there was plenty of fruit, there was perhaps not quite enough acidity for balance.
Over lunch, we had a rather more extended tasting.
For this, we started with a dry, white Douro wine, the Quinta de la Rosa Douro Branco 2013. Crisp and aromatic, it had notes of apple and lemony citrus. The other dry wine we tried, the Quinta de la Rosa Reserva Douro Tinto 2010, was where violets came out with blackberry and plummy fruit.
Moving back on to the port, we tried an older 20 year old tawny. Showing more caramel and dried fruits, there was also a hint of Turkish Delight about it.
Given the quality of the dry red wines, I think the vintage ports are really where Quinta de la Rosa has its strength and we tried two vintages. The Vintage 2011 was still very youthful (there was detectable tea leaf bitterness) with a floral nose in a decidedly sweet and fruity style. I actually acquired a bottle a few months later, which I'm intending to cellar for a good ten years. The Vintage 2000, visibly more aged, had caramel, prune, toffee and chocolate notes, backed by great acidity.