This is a post in the Spotlight on: Oporto and the Douro Valley series
Nestled among the dense collection of port houses on Vila Nova de Gaia is Taylor's lodge in Oporto. It's almost hidden except that through the inconspicuous entrance is a grand cellar, restaurant and garden. And a pair of peacocks. Not to forget of course that Taylor's, as part of the Fladgate Partnership, also owns the luxurious hotel next door, The Yeatman, as well as Croft and Fonseca.
It's no small port house but it is still family owned.
Taylor's began as port shippers, establishing their lodge in 1692, before acquiring their first vineyard. Today, 30% of the grapes comes from their own vineyards in the Douro Valley, where they are fermented and spend the winter at the winery before being transported to the lodge for ageing. At Vila Nova de Gaia, they spend a year in barrels during which time the quality of the wine is assessed and they are funnelled into a category of port.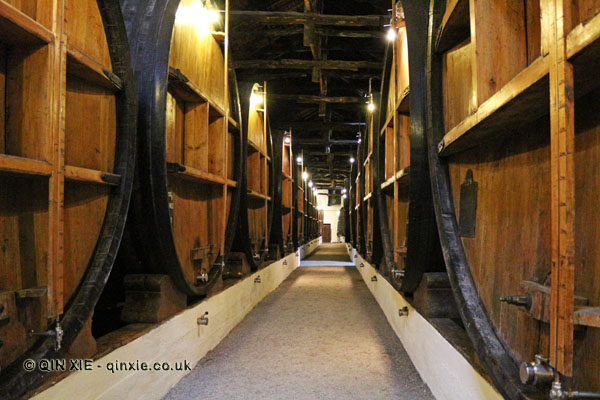 My visit to the lodge coincided with the London Wine Fair, where Taylor's launched their 1863 Single Harvest tawny. Sadly I didn't get a chance to taste that historical wine but I did try seven of their more widely available ports and one rarer variety.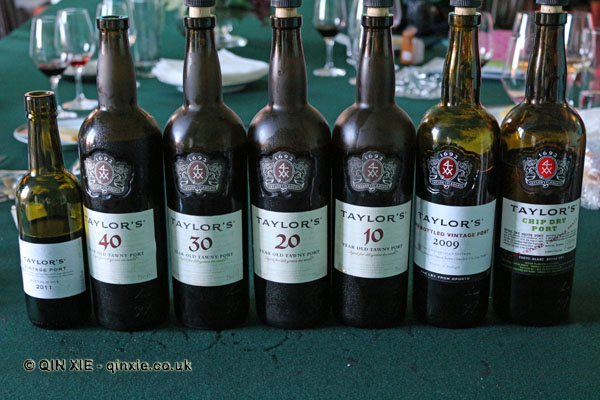 The first in line was the Chip Dry, a white port created to counter the sherry shortage during the Spanish civil war. It was a creamy port with a lightly floral nose. Although it's considerably less sweet than the next seven ports, you'll still be able to taste some residual sugar.
Next in line was the Late Bottled Vintage 2009, which was aged five years in large barrels before release. As a reference for size, the largest of these barrels for Taylor's is 110KL. With little air contact, the LBV is holding on to much of its ripe berry fruit notes and showing some violet, blackberry and black cherry. It goes extremely well with dark chocolate.
The LBV was followed by a flight of four tawny ports. The 10 Year Old Tawny, Taylor's best seller, was a nutty blend of white chocolate and raisin. The 20 Year Old Tawny, made for every day drinking, also showed nuts and raisins and, strangely perhaps, a little rawness of youth. Or maybe it was just a yearning for more complexity – there was certainly potential. When it came to the 30 Year Old Tawny, it was a little closed but there was a greater intensity of chocolate with a very rich palate and less nuttiness. The last tawny, the slightly smoky 40 Year Old Tawny, had a lot less dried fruits notes with more wood showing. It also somehow felt a little confected.
I tasted two vintage ports. The first was the Taylor's 2011 vintage port which was sort of reminiscent of a Brunello di Montalcino in its intensity. For this, think Maraschino cherries, cedar and violet.
The second vintage port, and the final wine I tried, was the Quinta de Vargellas Single Quinta 2001. Despite more than a decade in the making, it's still remarkably youthful, perhaps even too young as demonstrated by the slight roughness of the alcohol on the palate. In flavour, it showed raisins, a slight hint of vanilla and a long, complex and very sweet finish.