This is a post in the Spotlight on: the Loire Valley series
Thierry Germain has big ideas; and he's not afraid to share them.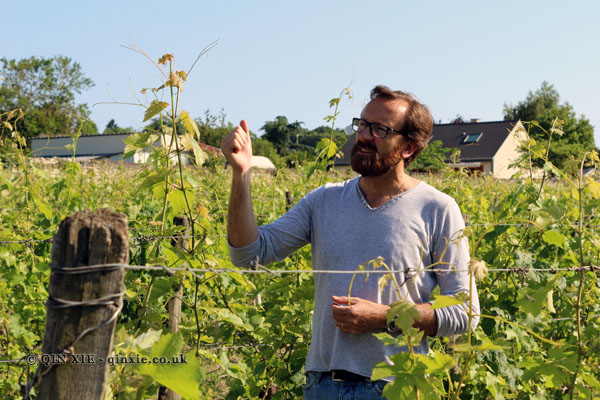 Owner and wine maker at Domaine des Roches Neuves since 1992, he is an avid supporter of biodynamic winemaking. Despite having more than three times the labour of a normal vineyard, his vineyards are minimally interventionist.
For him, the vine is like an upside down man; the roots are the head and the shoots are the arms and legs. Instead of trimming or green harvesting, he likes to roll the shoots around the trellising so that, come August, the vine will concentrate the grape sugars naturally. The thinking is that if a man can't function without arms and legs then neither can the vines.
Now if we suppose the sun is the father and the earth is the mother.
Over the course of a day, the vine leaves will move to protect the grapes from the sun. This he discovered sitting still for four hours, just to watch his vines grow. If you trim the leaves, the sun will concentrate the sugars of the grapes but you'll also get a masculine wine – the wine will be dominated by the effects of the father.
And there's also his philosophy that "wine is about good and not beautiful". A vineyard might not be as presentable untrimmed but if the resulting wine is good then that's all that matter.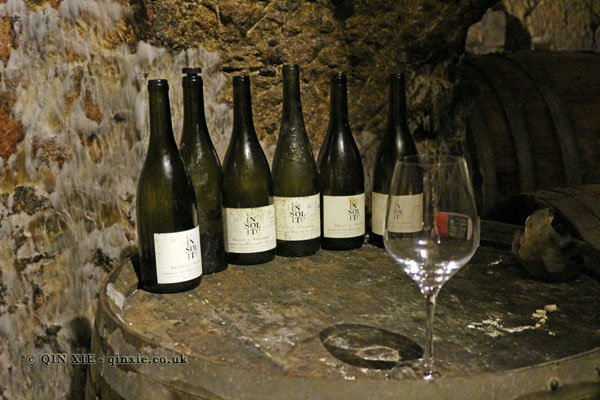 In his cellar, the one that he hollowed out himself, we tasted a few quirky and very different wines.
We started with the Clos Ecotard Saumur Blanc 2013, a fresh, citrusy wine with notes of under-ripe apples and extremely high acidity.
The L'insolite Saumur Blanc 2013, an old vine wine, was rich in minerality and acidity, flanked by white fruit and flowers.
Clos de l'Échelier Saumur Blanc 2013, in contrast with the first two wines, was very aromatic with lots of pear, tropical and floral notes as well as a mineral freshness. The Clos Romans Saumur Blanc 2013 that followed was much more closed with more citrus notes and minerality.
The L'insolite Saumur Blanc 2010, opened two weeks ago, had really opened up. It began with white peach and crisp apple before rendering into a complex blend of minerality and freshness. It's certainly not a classic Chenin Blanc.
The Terre 2013 was an experimental amphora wine (he only has the one) which had nine months of maceration in amphora with malolactic fermentation and no added sulphur. The resulting orange wine was very complex but bitter and tannic with notes of orange peel. It was, at one time, sold at Noma. The rather challenging Terre 2012, in contrast, didn't have much fruit or freshness but retained its tannic and bitter complexity. It was also a bit reminiscent of bird dropping – not entirely pleasant.
There are more experiments in the cellar.
In one barrel was an as yet unnamed white wine that was a cuvée of the 1997, 1998, 1999 and 2000 vintages of Chenin Blanc. Reminiscent of sherry, there was a definite nutty, oxidative nose; but there was also cabbage pungency and struck match aromas.
There was also a one-off sweet wine from 1995, made to moelleux style. It took six years of fermentation to achieve 6% alcohol, with no added yeast, but the result was a complex blend of raisins, dried apricots and prunes with a concentrated richness that's closer to liquoreux style sweet wines.
Up in the soon to be completed tasting room, we also tried some of his other wines.
The Bulles de Roche Saumur Brut NV had a bready nose with bruised pear and mushy white fruit as a top note with an underlying bitterness.
The Franc de Pied Saumur-Champigny 2013 was initially fruit forward before pulling back to reveal more vegetable and spicy notes. The tank sample we tried also had a touch of bubble gum with bramble and grippy tannins. The much older Franc de Pied Saumur-Champigny 1996, opened for two weeks, had a faintly sweet fermented soy bean nose with teeth stripping tannin, dense fruit and a very savoury palate. The long finish was of prunes and plums.
Many of Germain's wines were challenging but some were fantastic. He's happy with that verdict because for him, "it's good to see people who have emotion when tasting my wine and biodynamic wines have that effect".