A couple of months ago I was sent three bottles of Bordeaux by a friend for tasting. The Avery's Pioneer Range Bordeaux 2009, Chateau Grand Jean Bordeaux Millésime 2009 and Dourthe Reserve Montagne Saint-Emilion 2009, to be precise. Nothing mind-blowing as they say but a fine selection of tipple for every day drinking. Shortly afterwards, another friend sent me a further three bottles of wine as a thank you gift. This time it was a choice selection from the 90 point club – that's excellent for savouring.
Suddenly I had a small portfolio of enjoyable wines. Some would say that's pretty good going and yet months later, the wines remained untouched. Until this week, that is.
After much struggle with a new and unfamiliar bottle opener from the Harrod's Wine Shop, I managed to uncork the Avery. A deep inhalation down its neck was met with pleasure – robust plummy goodness. And then the purple liquor went straight into a measuring jug at 290ml and onto some cubed lamb-soon-to-be-daube waiting expectantly in the Le Creuset for its fruity marinade. The rest, uncorked, went into the fridge. Not a drop touched my lips.
Something similar happened a few months ago.
Shallots diced, parsley chopped, garlic minced and mussels scrubbed, I realised I had no white wine. How was I going to pull together a moules marinière? The Pommery which sat in the corner caught my eye. Swiftly the metal cage was disengaged, the cork wrestled out and the bubbles poured into the pan with the lid replaced firmly. A short while later, I had an indulgent lunch watched disapprovingly by the empty bottle.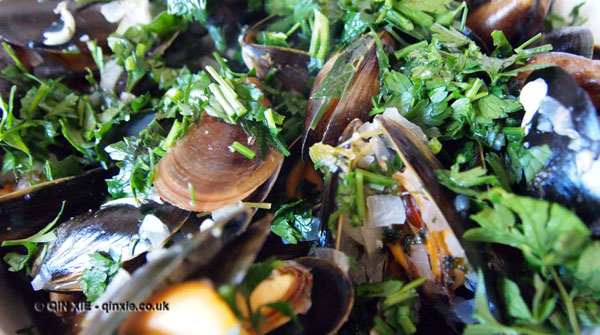 For the passionate oenophile, this must seem appalling. But for the avid gastronome? Probably quite appeasing.
My reasoning was this: since I spend much of the week at events, mostly involving some form of drinking, I really ought to curb my enthusiasm when at home. After all, drinking alone was never fashionable. Eating alone, however, was run of the mill business. Weighing up the probability of a guest who would genuinely appreciate the wine against the probability of me seriously enjoying the food, my ravenous hunger won out. I suppose that makes me a better gastronome than an oenophile, when alone at least.
Of course not every meal is as indulgent as the champagne moules marinière. On this lamb occasion, the Avery was chosen for its full fruited body and generous tannins though perhaps more so because I judged it as the lesser drinking wine out of my collection.
As it happens, I was cooking the lamb daube for a friend who had come to photograph me spatchcock a poussin. The perfect opportunity to sample some of that wine you say?
Well a small splash of the leftover Avery was supped with the lamb before it was filed back into the fridge – unfortunately I didn't have the good sense to serve it at room temperature. Still, the dulled flavours of the chilled wine remained richly plummy and heavily tannic. It was not at its best for drinking but served rather well as a side to the already basked lamb, which my friend appreciated so much more.
See what I mean about probabilities?
And the rest of that bottle of Bordeaux? Well, it's going into next week's coq au vin. Naturally.
(First seen on The Prodigal Guide)