The InterContinental, 1 Hamilton Place, London W1J 7QY wellington-lounge.co.uk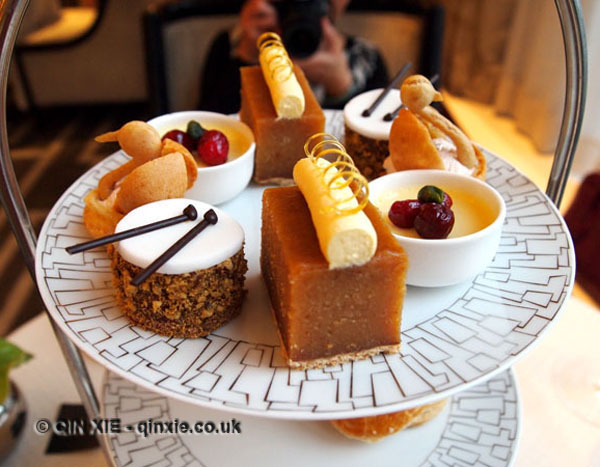 The last time that I went for Afternoon Tea with my mother was maybe a decade ago.
The new way of drinking tea was just becoming fashionable in China. Instead of the Chinese staple of green teas, the tea houses were exploding with leaves from all over the world. The saying in Britain might be "not for all the tea in China", but the Chinese revered red tea and the British way of drinking it – with milk and sugar.
Of course, tea houses existed long before that.
I remember being around five and being taken to the old tea houses where people sat around square mahogany tables amongst a sea of bamboo arm chairs. These were always outdoors and were open year round.
There were really only two kinds of tea – jasmine or Long Jing (dragon well). The loose leaves, always full petal and not broken crackling, arrived in a porcelain cup that had a saucer and lid. The saucer caught any spillages and made the scorching cups easier to handle while the lids protected the tea from the elements and served as a good implement for pushing back the leaves. Your cup would be topped up throughout your time at the tea house by the tea porter, which might be several hours or the whole day.
The only nibbles were sunflower seeds, and sometimes mixed sweets. There were always piles of shells and wrappers littering the floor, constantly swept away by attendants with sorghum brushes and quickly piling up again. It was rustic stuff but it was a place where people could talk, play cards, or as more often was the case, Mahjong in the days before widespread technology. Sometimes, there were performances of Sichuan opera and live talks too.
I don't know when it was but those kinds of tea houses fell out of fashion. While tea remained popular, the Chinese version of Afternoon Tea wasn't revived until the hotels started serving red teas. Soon, tea houses were everywhere again but now in much more luxurious surroundings than its rustic predecessor. Snacks, pastries and sometimes full meals would be served. Prices also shot up by two or three hundred per cent.
(Read more about tea houses in China in my Lonely Planet post here)
These were the Afternoon Teas I had a decade ago.
But now I was sitting down in the plush, upholstered arm chairs in the Wellington Lounge and our Afternoon Tea came with a Champagne cocktail.
The food had all the right notes of Britishness.
Warm Mountbatten Estate partridge, morel and foie gras pie; Speyside salmon and Lords of the Hundreds cheese sandwiches; and sultana and buttermilk scones with Devon clotted cream and strawberry preserve were just some of the things on the menu. Interlaced were Christmas highlights like choux swans (a-swimming), dark chocolate drums (for the drummers drumming) and French hens eggs in the sandwiches.
There was still something reminiscent of the old tea house experiences though. A jasmine silver needle tea was on offer and it was exquisite. The jasmine of yester-year certainly had nothing on the finesse of this one.
But then I suppose, many things had become refined and infinitely more luxurious compared to those first experiences of tea houses.
Click here for menu and photos
---
In Pursuit of Food was a guest of InterContinental Park Lane. If you want to know what this means, check out our Editorial Policy.