This is part two of two on Charles Heidsieck and the art of sabrage. Read part one here.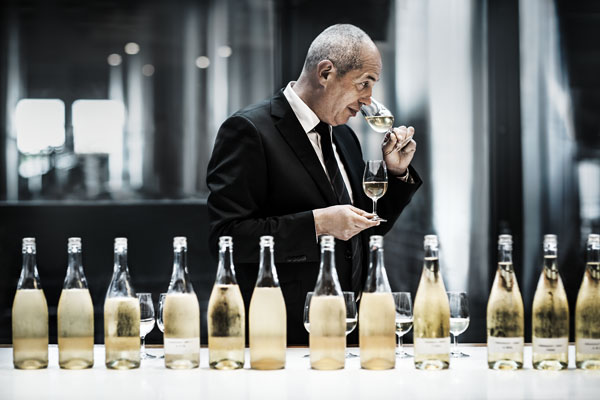 If sabrage is your way of introduction to the Champagnes of Charles Heidsieck, then you're already off to a good start. Even better if your bottle isn't adulterated by glass shards.
I have to admit, I've tried Charles Heidsieck before. It was at a trade tasting in January this year and I remember being very impressed with it. Digging out my old tasting notes now, I realised that I've come to almost the exact same conclusions – the 1999 Rosé Millésimé was a firm favourite. But more on that later.
| | |
| --- | --- |
| | First up was the Charles Heidsieck Brut Réserve NV. For a non-vintage, it is incredibly rich in flavours owing to the fact that 40% of the blend is made up of reserve wines with an average age of 10 years. With equal measures of fruit and nut characteristics, it makes for a complex starter. |
| | When I originally tasted the Charles Heidsieck Rosé Réserve NV, I wasn't a fan. Whilst there was plenty of fruit on the palate, complemented by a soft mousse, it just wasn't a stand out wine. Fast forward a little, my second tasting showed a wine with much more development. The evolution in this particular bottle helped it to become something much more complex. |
| | The Charles Heidsieck Brut Millésimé 2000 fared equally well between the two tastings. The toasty intensity was very forthcoming but there was also honey and autumn fruits followed by a crisp, dry finish. The wine has developed well in the 10-plus years of ageing and, while it can go on for some more, I'd really prefer to enjoy it as it is. |
| | In comparison, it was immediately obvious the Charles Heidsieck Rosé Millésimé 1999 should be aged for much longer. As it is, the meaty and bold Champagne is stunning. Then (in the January tasting), as now, it was a favourite despite my aversion to rosé wines. Right now, it's displaying an unrivalled intensity of fruit with undertones of toasted smokiness. There was obviously development in the wine but it still had an incredible amount of freshness. |
| | The final vintage was the Charles Heidsieck Blanc des Millénaires 1995. With almost 20 years in the bottle, it was showing quite a lot of age. It's confidently nutty with fading fruit. I'm not a fan of Blanc de Blancs as a rule so this exceptional vintage doesn't quite do it for me, especially following the Rosé Millésime 1999. |
This selection reminded me how bubbles can do incredible things to your preference for wine. Rosé Champagne I can fall in love with but Blanc de Blancs I just don't get on with. And yet in the world of still wines, it's just the opposite. My nose is turned up at the rosés on offer while I seem to find Chardonnay irresistibly alluring in all its forms.
In any case, this is a seriously fine collection of Champagnes to discover and re-discover.
Charles Heidsieck hosted a tasting and dinner. In Pursuit of Food was a guest at the event. You can find out more in our Editorial Policy.