89 Kingsland High Street, London E8 2PB www.jidori.co.uk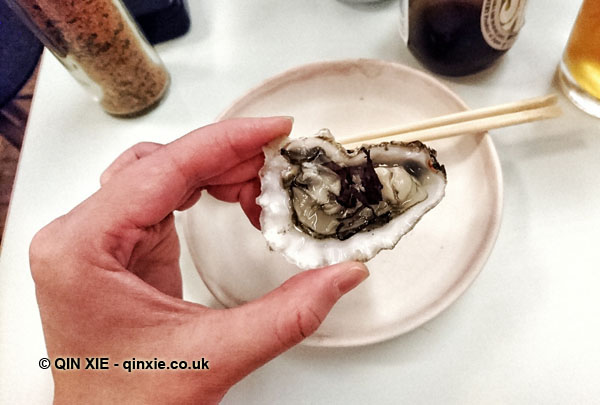 Jidori was Plan C. Not in earnest, as it was always the plan to visit after Lyle's and The Clove Club, though there was a Plan D.
I'm not sure there's anyone who found it on the first go. This Dalston restaurant lives in the stripped down shell of another establishment, the tell-tale sign of which is still over the entrance. The only thing that advertises Jidori is a simple branded print out of the menu, stuck on the window.
It feels like I've been there before though. Perhaps in it's previous incarnation as a Vietnamese restaurant. Now it's a yakitori joint with tiny tables that make the cavernous room look huge.
There's enough of us to try just about everything on the tight menu, with just eight yakitori options, a set of sides, a smattering of small plates and one dessert.
A couple of things weren't available. Like the liver for example, which was replaced by the much more delightful oyster. They were kumamoto oysters, and I really ought to have had them without the dressing, but shallot and vinegar is just so god damn good.
I also rather enjoyed it's vegetarian options of king oyster mushroom and aubergine and miso butter. The onsen egg was gracious, as was the koji fried chicken, though I think I preferred the wings. You'd be spoilt for choice if you loved chicken or rather sick of it by the end if you're not.
There's only one dessert on the menu, a ginger ice cream. It came loaded with sweet potato crisps, miso caramel and black sesame. It's unusual, but not necessarily in a bad way. I think the Jidori pickleback, a shot of whisky followed by a shot of pickled ginger juice, was made for it.
And after that solitary dessert, it was onto Plan D. A different Plan D.