This is a post in the Spotlight on: Oporto and the Douro Valley series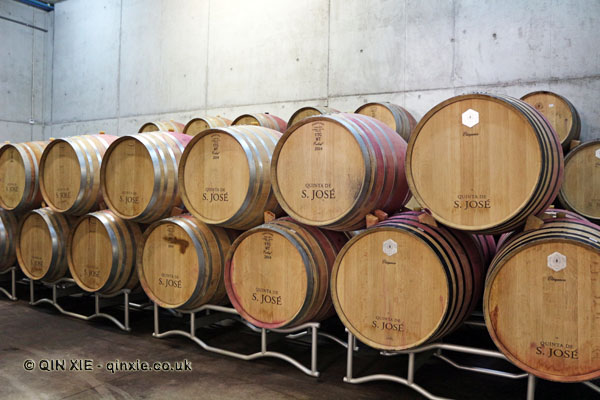 Quinta de São José, a small, family run estate of just 10 hectares, lies in the heart of the Douro Valley, a short boat ride up from Pinhão. Although accessible by road, it's much easier to get to the Quinta from the river.
Most of the wines produced at the estate are dry Douro wines but there's also a small amount of port produced owing to the family heritage – João Brito e Cunha, owner and winemaker, is a direct descendant of Dona Antónia Ferreira, the doyenne of port.
While winemaking is the core business, they're also beginning to develop a tourism aspect with vineyard tours and accommodation. At the top of the hill, where they do all the lab work, the view across the valley is truly spectacular.
We tasted through the small selection of wines (in a good year, they would make four reds, including reserves, two whites and one port) starting with the Flor de S José Branco 2013. It opened with a slight sulphur to the nose but had a light and refreshing palate of pear and citrus.
It's relatively rare for a Quinta to produce a single varietal wine in the Douro Valley but S. José had a Touriga Nacional 2011. It's the first vintage of this wine and is a vibrant red, tinged with purple, showing a smoky, cedar top note followed by cherry, blackberry, rose and a little vanilla on the finish. That vanilla was also obvious in their Reserva Douro Tinto 2011 which showed blackberry and herbaceousness of tomato vines, though it was also ripe with violet and rose.
We also tasted their vintage ports starting with the Single Quinta Vintage 2009, a fruity, approachable port, rich with cherry and obvious residual sweetness. The younger Single Quinta Vintage 2012, a tank sample, was fruity but still closed and a little woody with a much drier finish.