This is a post in the Spotlight on: the Loire Valley series
The village of Le Puy-Notre-Dame is known for its subterranean caves, used at one time to grow mushrooms. These days, they form the basis of the cellar at Domaine de la Paleine.
The Domaine is an interesting proposition.
As well as being a mix of private home and working winery, the estate is also open to eno-tourism. And they just so happen to fall between the Anjou and Saumur appellations so produces a little of both.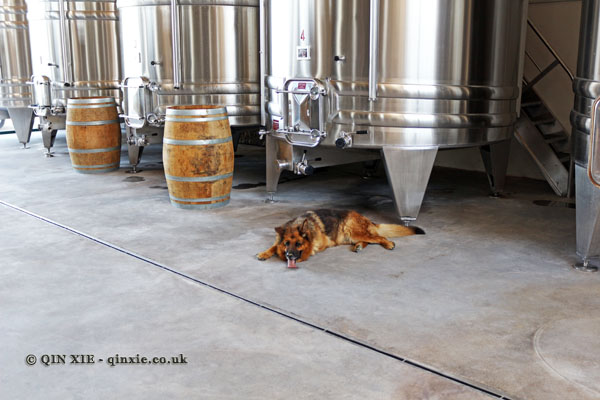 Unfortunately on the day that I visited, the winemaker wasn't around to explain his wines, but what was obvious was the fact that the owner loved opera – many of the wines had names that were related to Italian operas, with each vintage given a different name. The results were pretty haphazard and I didn't have a whole lot of joy with the tasting.
The tasting started with an Arpeggio Saumur Blanc 2013 tank sample; a simple citrusy wine that's yet to integrate. The Toccata Saumur Blanc 2012, the same wine as Arpeggio but under a different name, had a slightly honeyed character with a ripe and rounded finish. There were plenty of white peach notes but again, simple in style.
The La Paleine Saumur Blanc 2011 felt disjointed somehow despite boasting some good peach and floral notes. Similarly disappointing was the Pamina Saumur Blanc 2011 – off balance and hot on the palate at 15% alcohol.
The Traviata Saumur Blanc 2010 was an unoaked demi-sec; boasting a savoury nose, it wasn't quite enticing enough.
The Pamina Anjou Blanc 2010 was made a viscous moelleux-style wine, which was sadly a bit one dimensional with little complexity of fruit.
Moving up to La Paleine's more premium wines, the Aria Saumur Blanc 2010 had hints of oak with a lemony honey note. The Casta Diva Anjou Blanc 2009 had a pungent peppery and stinky gunpowder nose, followed by orange peel bitterness – it's a good name for a difficult wine.
Finally it was on to the sweet wines. The Coteaux de Saumur Late Harvest 2011, at last, showed some complexity with floral notes coming up top. The older Coteaux de Saumur Late Harvest 2010 had a sort of savoury tropical fruit note but had lost much of its freshness.