The InterContinental, 1 Hamilton Place, London W1J 7QY wellington-lounge.co.uk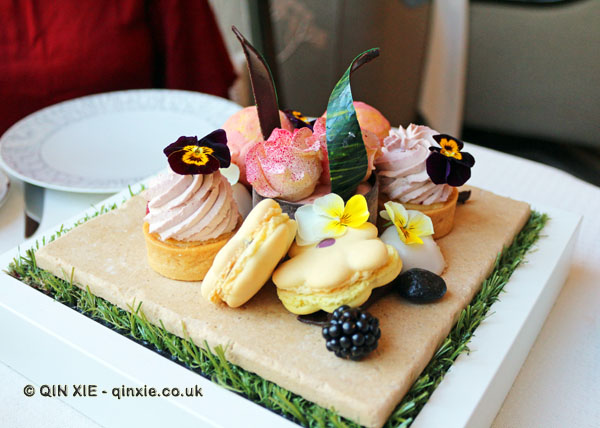 There aren't many places that I would visit twice.
Schedules, preferences and the pursuit of "new" all work against a place as soon as I visit. There's something about revisiting the same spaces for me that has a closer association with impending boredom than the comfort of the familiar.
It's not them, it's me. I have a constant need for the unfamiliar, the unknown, the challenge, the adventure. In short, something different to feed my curious mind.
Well, I went back to the Wellington Lounge for their Afternoon Tea and things have certainly changed in the year and half since my last visit, not least because of the seasons.
My last visit was to try their very British Christmas menu and this time it's to try their new seasonal offering – Scents of Summer. Inspired by the Great British summer, the new Afternoon Tea, which launched recently, is a collaboration between InterContinental Park Lane's Executive Chef Ashley Wells and Edward Bodenham, the ninth generation of British perfumers, Floris London. The perfume influence is immediately obvious when you walk into the Wellington Lounge, a floral perfume lingers in the air forming part of the sensory experience.
In many ways, Afternoon Teas are much better for catching up with people and for informal work meetings than lunches or dinner. It's generally a quieter and calmer atmosphere and you always have time and room to ruminate. I met with my friend Emma Wright, publisher at The Emma Press, to talk about a couple of little projects I had in mind. (I'll explore these ideas more at a later date.) Emma and I seem to have fallen into a routine of meeting for tea, usually at my house, to discuss publishing, journalism and generally putting the world to rights so Afternoon Tea is perfect for us.
The food came out in staggered succession. The palate cleansing shot of rose pearl and wheatgrass, arriving on a bed of moss, came with the rolled sandwiches. Next came the scones with four different toppings. And finally, a platter of stunning sweet patisserie.
Of these, the scones were the only constant – the palate cleanser was new, the sandwiches used to be straight cut and the patisserie always changed according to the theme. Actually, the scones weren't exactly the same either. They were smaller. Much smaller. It's a shame because they were, as I remembered them, divine.
Perhaps the most important change is the tea. Wellington Lounge has changed tea suppliers to Northern Tea Merchants who have created whole new blends for the experience. And, I'm told, you get to try two to four different blends of teas, matched to your preference and to the selection of food.
I usually make a bee-line for the Earl Grey but this time I tried a selection ranging from an intense, and slightly over-extracted, second flush Darjeeling to a very delicate Pai Mu that's tinged with the delicate flavour of rose. I wasn't completely enamoured with all of the matches but we had an extremely attentive member of staff who worked very hard to find one that I did so I'm certainly glad that I ventured out of my comfort zone. He was also very knowledgeable about what they had on offer and was very happy to make recommendations, without being too forward, which is always a sign of good training.
I'm a big fan of summer, though not usually the sun-shy British one, but I think Scents of Summer captured the best part of it rather well. The flower-powered patisserie platter was certainly worthy of a gold at Chelsea Flower Show, though without the cause of troublesome hayfever. It's a bit of a challenge for those without a sweet tooth so be prepared for that. Though if you find your sugared rose too pretty to bite into, you could always take it home.
Scents of Summer is available until the 27th of September.
Click here for menu and photos
---
In Pursuit of Food was a guest of InterContinental Park Lane. If you want to know what this means, check out our Editorial Policy.